Ankle Sprain
Editor: Dr. Amy Spencer, PT, DPT, OCS, MTC, CSCS, CKTP - A Board Certified Clinical Specialist in Orthopedic Physical Therapy and Certified Manual Therapist. Owner and Physical Therapist, Specialized Physical Therapy in North Reading, MA.
The ligaments of the ankle hold the ankle bones and joint firmly into position. They protect the ankle joint from abnormal movements like twisting, turning,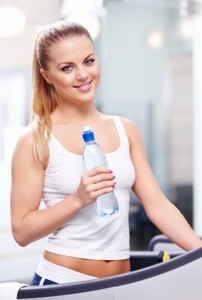 and rolling of the foot. Ligaments usually stretch within their limits and then go back to their normal positions. When a ligament is forced to stretch beyond its normal range, a sprain can occur. A severe sprain will cause tearing of the elastic fibers.
A sprained ankle is a very common injury to one or more of the ligaments of the ankle. The ligaments on the outside of the ankle are most commonly injured with excessive inversion, for example, when the foot is forcibly rolled inward. The ligaments at the inside of the foot can be sprained with excessive eversion if the foot is forcibly rolled outward. This is less common type of sprain also known as a high ankle sprain.
Symptoms of an Ankle Sprain:
Ankle sprains are painful and the amount of pain will depend on the amount of stretching and tearing of the ligament; instability (seen in grade 2 and 3 sprains); swelling; bruising; loss of motion and strength; unable to bear weight (grade 2 and 3 sprains). In more severe sprains, you may hear and/or feel something tear, which is usually described as a pop or snap. The more pain and swelling you have means the more severely your ankle is sprained and the longer it will take to heal.
Causes of an Ankle Sprain:
Awkwardly planting the foot when running, walking, or stepping up or down
Stepping on a surface that is irregular, such as stepping in a hole
Sports when one player steps on another player such as when a basketball player goes up for a rebound and comes down on top of another player's foot. This can cause the rebounder's foot to roll inward.
A fall that causes the ankle to twist
Ankle sprains are classified by various grades based on the severity of the sprain:
Grade 1 sprain: Slight stretching and minimal damage to the fibers of the ligament. There is minimal impairment with a grade 1 sprain and healing is very fast.
Grade 2 sprain: Partial tearing of the ligament. If the ankle joint is examined and moved in certain ways, abnormal looseness (laxity) of the ankle joint occurs. It will take longer to recover from a grade 2 sprain and even longer than that from a grade 3 sprain.
Grade 3 sprain: Complete tear of the ligament, leaving the joint very unstable. A grade 3 sprain may require surgery if the ankle is too unstable.
Treatment of an Ankle Sprain:
Physical therapy following an ankle sprain is needed to restore foot and ankle range of motion, strength, proprioception, balance, and gait. Modalities such as ultrasound, electrical stimulation, or Kinesio tape may be used to decrease inflammation and swelling. This will help accelerate the recovery process. There is an increased incidence of future ankle sprains if comprehensive rehabilitation and physical therapy is not used on your first sprain. Chronic ankle instability can develop if ankle sprains are not treated properly.
SPT is just minutes from Andover, Reading, North Andover, and Wilmington MA
Specialized Physical Therapy is conveniently located in North Reading, MA and also proudly serves residents in Andover, Reading, North Andover, Wilmington, Boxford, Burlington, Woburn, Stoneham, and Methuen, MA. We offer free and spacious parking located within a few steps away from our clinic's door.
Schedule Your Appointment Today to Regain Freer Movement and Healthy Living!
Specialized Physical Therapy practices a comprehensive approach to total muscle, joint, and spine health. We are the preferred physical therapy clinic in Greater Boston, because we offer an extensive range of physical therapy services designed to restore your physical strength and mobility while reducing your pain. Our physical therapy clinic sets itself apart by:
Providing proven techniques for alleviating minor, major, acute, and chronic pain.
Specializing in sports medicine, manual therapy, post-surgical care, auto accidents, prenatal and postpartum conditions, orthopedic injuries and overuse injuries.
Maintaining a clean, comfortable, private and quiet clinic, making it ideal for private consulting, educating and performing the latest physical therapy techniques.
Focusing on your individual needs, not the bottom line, because we are a small, physical therapist-owned and family-oriented clinic.
Treating one patient at a time in our private treatment room to make sure that you get the personalized care and attention you need.
Completing your treatment from start to finish with only exceptional doctorate trained and fully licensed Massachusetts physical therapists that have excellent skills, breadth of knowledge, and invaluable experience to help you reach your goals and succeed.