Patellofemoral Syndrome or Chondromalacia Patella
Editor: Dr. Amy Spencer, PT, DPT, OCS, MTC, CSCS, CKTP - A Board Certified Clinical Specialist in Orthopedic Physical Therapy and Certified Manual Therapist. Owner and Physical Therapist, Specialized Physical Therapy in North Reading, MA.
Patellofemoral pain syndrome refers to pain at the front or under the kneecap that results from physical and biochemical changes in the patellofemoral joint.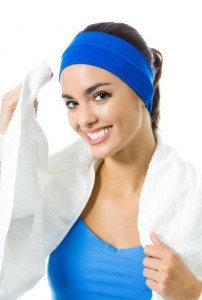 The patella does not move or 'track' in properly when the knee is being bent and straightened. This can lead to fraying, abnormal softening, and damage to the underlying patellar cartilage resulting in knee pain and inflammation. This syndrome is also known as chondromalacia patella.
Causes of Patellofemoral Syndrome:
The exact cause of patellofemoral pain is unknown. However, these are some causes that are believed to contribute to the pain:
Overuse: Repetitive stress on your knee joint, like running or jumping in sports, may result in patellofemoral pain.
Poor control of your muscles: Patellofemoral pain can occur when the muscles around your hip and knee don't function well to maintain proper tracking of your kneecap. Tightness of the quadriceps muscles, hamstrings and iliotibial band, and relative weakness of the quadriceps, gluteus maximus and gluteus medius muscles are the most common causes.
Anatomic factors: Anatomic differences that may contribute to this problem include femoral anteversion (excessive rotation of the hips), tibial torsion (excessive rotation of the shin bone), genu valgum (knock knees), genu recurvatum (hyperextended knee) and excessive pronation (flat feet).
Symptoms of Patellofemoral Syndrome:
Anterior knee pain in one or both knees typically occurs during activities such as squatting, kneeling, or jumping and it often worsens when descending steps or hills. Sitting with bent knees can also be painful after a prolonged period. Buckling may also occur where the knee suddenly and unexpectedly gives way and does not support your body weight. Another common symptom is catching, popping, or grinding sensation when walking or with knee movement.
Treatment of Patellofemoral Syndrome:
Approximately 80 to 90% of patient's with patellofemoral pain syndrome will do very well with conservative treatment such as rest, ice, and physical therapy. If pain continues, surgery may be recommended; however, it is relatively uncommon. Modalities such as ice and ultrasound may be used to assist with decreasing any pain or swelling at the knee. Kinesio tape may be helpful in providing support and proper alignment at the patella (kneecap). Tailored stretching with hip and knee strengthening exercises will help in restoring range of motion, muscle performance, and motor function. Physical therapy will restore function and lead to improved performance in recreational, community, occupational, and home activities.

SPT is just minutes from Andover, Reading, North Andover, and Wilmington MA
Specialized Physical Therapy is conveniently located in North Reading, MA and also proudly serves residents in Andover, Reading, North Andover, Wilmington, Boxford, Burlington, Woburn, Stoneham, and Methuen, MA. We offer free and spacious parking located within a few steps away from our clinic's door.
Schedule Your Appointment Today to Regain Freer Movement and Healthy Living!
Specialized Physical Therapy practices a comprehensive approach to total muscle, joint, and spine health. We are the preferred physical therapy clinic in Greater Boston, because we offer an extensive range of physical therapy services designed to restore your physical strength and mobility while reducing your pain. Our physical therapy clinic sets itself apart by:
Providing proven techniques for alleviating minor, major, acute, and chronic pain.
Specializing in sports medicine, manual therapy, post-surgical care, auto accidents, prenatal and postpartum conditions, orthopedic injuries and overuse injuries.
Maintaining a clean, comfortable, private and quiet clinic, making it ideal for private consulting, educating and performing the latest physical therapy techniques.
Focusing on your individual needs, not the bottom line, because we are a small, physical therapist-owned and family-oriented clinic.
Treating one patient at a time in our private treatment room to make sure that you get the personalized care and attention you need.
Completing your treatment from start to finish with only exceptional doctorate trained and fully licensed Massachusetts physical therapists that have excellent skills, breadth of knowledge, and invaluable experience to help you reach your goals and succeed.