Trochanteric Bursitis
Editor: Dr. Amy Spencer, PT, DPT, OCS, MTC, CSCS, CKTP - A Board Certified Clinical Specialist in Orthopedic Physical Therapy and Certified Manual Therapist. Owner and Physical Therapist, Specialized Physical Therapy in North Reading, MA.
A bursa is a fluid-filled sac that helps reduce friction of muscles and tendons over a bone. The trochanteric bursa is located at the side of the hip. It can be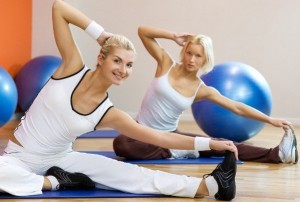 inflamed or swollen with overuse or trauma. Inflammation of the bursa is called bursitis.
Friction can build in the bursa during walking or running, if the tendon on the side of the thigh is tight. When the tendon is tight, it will rub against the bursa. This repeated friction results in the bursa becoming inflamed and swollen, which causes pain. Friction can also start if the outer hip muscle (gluteus medius) is weak, if one leg is longer than the other, or if you run on banked (slanted) surfaces.
Causes of Trochanteric Bursitis:
Most often, the symptoms come on gradually with no specific cause. It can sometimes be caused by a traumatic event, such as falling and landing directly on that hip. Walking or climbing stairs will usually make this condition worse.
Symptoms of Trochanteric Bursitis:
Trochanteric bursitis is usually painful, especially if you lay on one side. It may also be difficult to get in and out of a low chair or car seat. It can be accompanied by tenderness, burning on the outer hip or thigh, stiffness is the hip joint, and the inability to sleep.
Treatment of Trochanteric Bursitis:
Specific treatments are available if your trochanteric bursitis condition is severe and requires physical therapy. Modalities such as ultrasound may be helpful at reducing the pain and inflammation of the bursa. Tailored stretching with hip strengthening exercises will help in restoring range of motion, muscle performance, and motor function. Manual physical therapy, such as joint mobilization and massage, will also help to improve joint mobility and loosen any muscle restrictions.

SPT is just minutes from Andover, Reading, North Andover, and Wilmington MA
Specialized Physical Therapy is conveniently located in North Reading, MA and also proudly serves residents in Andover, Reading, North Andover, Wilmington, Boxford, Burlington, Woburn, Stoneham, and Methuen, MA. We offer free and spacious parking located within a few steps away from our clinic's door.
Schedule Your Appointment Today to Regain Freer Movement and Healthy Living!
Specialized Physical Therapy practices a comprehensive approach to total muscle, joint, and spine health. We are the preferred physical therapy clinic in Greater Boston, because we offer an extensive range of physical therapy services designed to restore your physical strength and mobility while reducing your pain. Our physical therapy clinic sets itself apart by:
Providing proven techniques for alleviating minor, major, acute, and chronic pain.
Specializing in sports medicine, manual therapy, post-surgical care, auto accidents, prenatal and postpartum conditions, orthopedic injuries and overuse injuries.
Maintaining a clean, comfortable, private and quiet clinic, making it ideal for private consulting, educating and performing the latest physical therapy techniques.
Focusing on your individual needs, not the bottom line, because we are a small, physical therapist-owned and family-oriented clinic.
Treating one patient at a time in our private treatment room to make sure that you get the personalized care and attention you need.
Completing your treatment from start to finish with only exceptional doctorate trained and fully licensed Massachusetts physical therapists that have excellent skills, breadth of knowledge, and invaluable experience to help you reach your goals and succeed.