Piriformis Syndrome
Editor: Dr. Amy Spencer, PT, DPT, OCS, MTC, CSCS, CKTP - A Board Certified Clinical Specialist in Orthopedic Physical Therapy and Certified Manual Therapist. Owner and Physical Therapist, Specialized Physical Therapy in North Reading, MA.
The piriformis is a muscle that lies deep within the buttocks and it is covered by the gluteal muscles. Its role is to externally rotate (turn out) the hip joint. The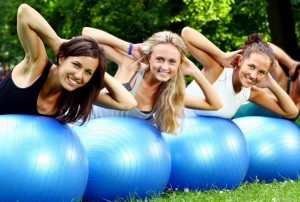 sciatic nerve runs under the piriformis muscle deep in the buttock and it passes straight through the piriformis muscle fibers in approximately 10 percent of the population. If the piriformis muscle becomes tight, it can put pressure on the sciatic nerve and cause pain that radiates down the leg and into the foot.
Causes of Piriformis Syndrome:
The exact causes of piriformis syndrome are unknown, but suspected causes include:
Muscle spasm in the piriformis muscle either because of irritation in the piriformis muscle itself or in a nearby structure such as the sacroiliac joint or hip
Tightening of the muscle in response to injury or spasm
Swelling of the piriformis muscle due to injury or spasm
Any one or combination of the above causes can affect the piriformis muscle, causing buttock pain. It may also affect the adjacent sciatic nerve causing pain, tingling, or numbness in the back of the thigh, calf, or foot.
Symptoms of Piriformis Syndrome:
Piriformis syndrome usually starts with pain, tingling, or numbness in the buttocks. The pain can be severe and extend down the length of the sciatic nerve at the back of the leg into the foot. The pain is due to the piriformis muscle compressing the sciatic nerve. Pain may also be triggered while climbing stairs, applying firm pressure directly over the piriformis muscle, or sitting for long periods of time. Most cases of sciatica are due to a nerve dysfunction caused by the compression of one or more lumbar or sacral nerve roots from a spinal disc herniation, rather than a result of piriformis syndrome.
Treatment of Piriformis Syndrome:
Physical therapy treatment is focused on relieving the pain through stretching and therapies designed to decrease swelling. This type of treatment should lead to decompression of the sciatic nerve and relief from your symptoms. Therapeutic modalities, like moist heat, ice, ultrasound, and electrical stimulation, will help to decrease pain, alleviate spasms, increase blood flow, and improve soft tissue flexibility.
Soft tissue mobilization and massage are also used to increase blood flow, decrease spasms and associated soft tissue restrictions, and improve soft tissue mobility. Joint mobilization to the lumbar spine, sacroiliac joint, and hip may be necessary to restore normal joint mobility, range of motion, and function. A physical therapist may give you instructions for changes in your activities and postural modification to decrease aggravation and perpetuation of symptoms with activities of daily living is also necessary for healing to occur.

Convenient Physical Therapy Clinic Location: North Reading, MA
Specialized Physical Therapy is conveniently located in North Reading, MA. We proudly serve residents in the neighboring communities including: Andover MA, Reading MA, North Andover MA, Wilmington MA, Boxford MA, Burlington MA, Woburn MA, Lynnfield MA, Melrose MA, Danvers MA, Middleton MA, Topsfield MA, Wakefield MA, and Methuen MA. We offer free and spacious parking located within a few steps away from our clinic's door.
Schedule Your Appointment Today to Regain Freer Movement and Healthy Living!
Specialized Physical Therapy practices a comprehensive approach to total muscle, joint, and spine health. We are the preferred physical therapy clinic in Greater Boston, because we offer an extensive range of physical therapy services designed to restore your physical strength and mobility while reducing your pain. Our physical therapy clinic sets itself apart by:
We have helped thousands of patients with low back pain, sciatica, disc bulge, shoulder pain, shoulder impingement, frozen shoulder, hip pain, hip replacement, hip impingement, knee pain, knee replacement, ACL tears, MCL strains, LCL strains, ankle pain, and much more. Our Physical Therapy experts can help you with your range of motion, strength, balance, pain, injuries, and more. Call Now to take control of your health!
Providing proven techniques for alleviating minor, major, acute, and chronic pain.
Specializing in sports medicine, manual therapy, post-surgical care, auto accidents, workers compensation, prenatal and postpartum conditions, orthopedic injuries and overuse injuries.
Maintaining a clean, comfortable, private and quiet clinic, making it ideal for private consulting, educating and performing the latest physical therapy techniques.
Focusing on your individual needs, not the bottom line, because we are a small, physical therapist-owned and family-oriented clinic.
Treating one patient at a time in our private treatment room to make sure that you get the personalized care and attention you need.
Completing your treatment from start to finish with only exceptional doctorate trained and fully licensed Massachusetts physical therapists that have excellent skills, breadth of knowledge, and invaluable experience to help you reach your goals and succeed.