Anterior Cruciate Ligament Tear (ACL Tear)
Editor: Dr. Amy Spencer, PT, DPT, OCS, MTC, CSCS, CKTP - A Board Certified Clinical Specialist in Orthopedic Physical Therapy and Certified Manual Therapist. Owner and Physical Therapist, Specialized Physical Therapy in North Reading, MA.
The anterior cruciate ligament (ACL) is one of two major stabilizing ligaments crossing (hence cruciate) in the center of the knee joint. It is a connecting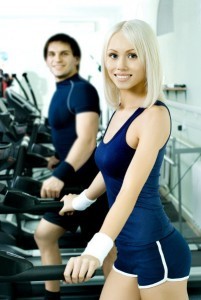 ligament between the shin bone (tibia) and the thigh bone (femur). It prevents over-bending and over-straightening of the knee, while limiting the sliding movement between the bones. It coordinates leg function and provides 90 percent of stability in the knee joint, which may be why an ALC tear is the most common ligament injury in the knee.
Causes of an ACL Tear:
An ACL tear is usually a sports-related injury, although ACL tears can also occur during rough play, motor vehicle collisions, falls, and work-related injuries. About 80% of sports-related ACL tears are non-contact injuries. That means that the injury occurs without the contact of another athlete. Most often ACL tears occur when pivoting or landing from a jump. The knee will give out from under the athlete when the ACL is torn.
Symptoms of an ACL Tear:
You may hear a pop at the time of injury, follower by instability or your knee will simply give out. There will also be pain, swelling, decreased strength, and reduced knee mobility.
Treatment of an ACL Tear:
Physical therapy is beneficial for non-surgical candidates and for those that have had surgical reconstruction. In both cases, physical therapy aims at restoring full range of motion, strength, balance, proprioception, and gait.
Most people who sustain an ACL tear will undergo surgery to repair the tear; however, some people may avoid surgery by modifying their physical activity, so they don't put a lot of stress on the knee. Some people can actually return to vigorous physical activity following physical therapy treatment without having surgery.
Whether you undergo surgery or not, the physical therapy treatment techniques and goals are quite similar. For those patients that choose not to have surgery, physical therapy will assist in decreasing pain and swelling, increasing range of motion, redeveloping strength, and gradually re-introducing activities. When surgical repair is done, rehabilitation will take longer (average 3 or more months), but the stages remain the same: controlling pain and swelling in the knee, recovery of range of motion and strength, and a graduated return to full activity.
Strengthening exercises are a big part of either rehabilitation program. Your physical therapist will make sure that these exercises are done safely and in the proper progression. In either case, therapy is extremely important to help maintain knee joint function and decrease the amount of degenerative wear-and-tear .

SPT is just minutes from Andover, Reading, North Andover, and Wilmington MA
Specialized Physical Therapy is conveniently located in North Reading, MA and also proudly serves residents in Andover, Reading, North Andover, Wilmington, Boxford, Burlington, Woburn, Stoneham, and Methuen, MA. We offer free and spacious parking located within a few steps away from our clinic's door.
Schedule Your Appointment Today to Regain Freer Movement and Healthy Living!
Specialized Physical Therapy practices a comprehensive approach to total muscle, joint, and spine health. We are the preferred physical therapy clinic in Greater Boston, because we offer an extensive range of physical therapy services designed to restore your physical strength and mobility while reducing your pain. Our physical therapy clinic sets itself apart by:
Providing proven techniques for alleviating minor, major, acute, and chronic pain.
Specializing in sports medicine, manual therapy, post-surgical care, auto accidents, prenatal and postpartum conditions, orthopedic injuries and overuse injuries.
Maintaining a clean, comfortable, private and quiet clinic, making it ideal for private consulting, educating and performing the latest physical therapy techniques.
Focusing on your individual needs, not the bottom line, because we are a small, physical therapist-owned and family-oriented clinic.
Treating one patient at a time in our private treatment room to make sure that you get the personalized care and attention you need.
Completing your treatment from start to finish with only exceptional doctorate trained and fully licensed Massachusetts physical therapists that have excellent skills, breadth of knowledge, and invaluable experience to help you reach your goals and succeed.