Shoulder Labral Tear
Editor: Dr. Amy Spencer, PT, DPT, OCS, MTC, CSCS, CKTP - A Board Certified Clinical Specialist in Orthopedic Physical Therapy and Certified Manual Therapist. Owner and Physical Therapist, Specialized Physical Therapy in North Reading, MA.
The shoulder joint is a ball and socket joint. The socket is extremely shallow, which makes the joint unstable. This means the bones in your shoulder are not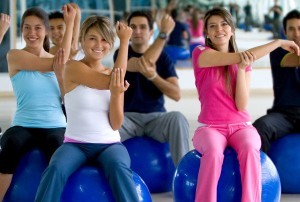 held securely in place and extra support is required. The shoulder joint has a rim of cartilage (labrum) that compensates for the shallow socket. The rim of cartilage makes the shoulder joint more stable, which allows for a wider range of arm movements.
The two most common types of labral injuries are SLAP (Superior Labrum from Anterior to Posterior) tears and Bankart tears. SLAP tears occur at the front of the upper arm where the tendon of the biceps connects with the labrum. Baseball pitchers and volleyballs players are more prone to a SLAP tear because of the high-velocity of quick-snapping overhead motions.
SLAP shoulder injuries are classified into four types of tears:
A Type I tear is a fraying of the labrum.
A Type II tear is when the biceps tendon and labrum are detached from their resting place within the socket joint.
A Type III tear is when the labrum has a flap of tissue hanging down into the joint.
A Type IV tear is when the labrum has a tear that extends into the biceps tendon.
Most SLAP tears can be treated effectively with rest and rehabilitation. Surgery may be necessary if the pain from the shoulder injury interferes with daily activity or athletic performance. Bankart tears typically occur with shoulder dislocations in younger patients. When your shoulder pops out of the socket, it can tear the labrum at the inferior glenohumeral ligament. This type of tear would be treated by immobilizing your arm in a sling, followed by rest, and then physical therapy to restore flexibility and strength. Unfortunately, people who have experienced a Bankart tear are more likely to dislocate the same shoulder in the future. Surgery may be the only way to completely repair the torn labrum. Surgery is an effective treatment and over 90% of surgical patients return to their normal activities without it dislocating in the future.
Causes of a Shoulder Labral Tear:
Repetitive, overuse, or high-velocity arm movements can result in a labral tear. A single traumatic event like falling onto your shoulder or breaking your fall with your hand can also cause a labral tear.
Symptoms of a Shoulder Labral Tear:
Labral tears cause deep pain in your shoulder, a loss of shoulder mobility, and weakness or instability in the arm or shoulder. You may also hear a popping or clicking during certain arm movements.
Treatment of a Shoulder Labral Tear:
Physical therapy is the recommended treatment for labral tears with minor symptoms. This includes strengthening exercises to support the joint and to decrease the strain on the glenoid labrum. Stretching exercises are also beneficial and will help to improve muscle function surrounding your shoulder. Ultrasound and ice can be used with the physical therapy to increase blood flow, decrease pain, reduce muscle spasms, and improve tissue flexibility. Massaging the neck, shoulder and shoulder blade area will also improve circulation, help reduce pain, and improve movement in your upper extremities. Make sure your physical therapist advises which positions to avoid while your labral tear is healing. Surgery may be required in more severe cases where physical therapy is unable to completely relieve the pain and symptoms. Physical therapy will again be necessary after the surgery to help your shoulder slowly and safely return to its optimal condition.

SPT is just minutes from Andover, Reading, North Andover, and Wilmington MA
Specialized Physical Therapy is conveniently located in North Reading, MA and also proudly serves residents in Andover, Reading, North Andover, Wilmington, Boxford, Burlington, Woburn, Stoneham, and Methuen, MA. We offer free and spacious parking located within a few steps away from our clinic's door.
Schedule Your Appointment Today to Regain Freer Movement and Healthy Living!
Specialized Physical Therapy practices a comprehensive approach to total muscle, joint, and spine health. We are the preferred physical therapy clinic in Greater Boston, because we offer an extensive range of physical therapy services designed to restore your physical strength and mobility while reducing your pain. Our physical therapy clinic sets itself apart by:
Providing proven techniques for alleviating minor, major, acute, and chronic pain.
Specializing in sports medicine, manual therapy, post-surgical care, auto accidents, prenatal and postpartum conditions, orthopedic injuries and overuse injuries.
Maintaining a clean, comfortable, private and quiet clinic, making it ideal for private consulting, educating and performing the latest physical therapy techniques.
Focusing on your individual needs, not the bottom line, because we are a small, physical therapist-owned and family-oriented clinic.
Treating one patient at a time in our private treatment room to make sure that you get the personalized care and attention you need.
Completing your treatment from start to finish with only exceptional doctorate trained and fully licensed Massachusetts physical therapists that have excellent skills, breadth of knowledge, and invaluable experience to help you reach your goals and succeed.