Backpack Safety
Editor: Specialized Physical Therapy Staff - Board Certified Clinical Specialists in Orthopedic Physical Therapy. North Reading, MA 01864.
Labor Day is here and that means one of two things:
1) the unofficial
end of summer
and…
2) BACK TO SCHOOL!
With every back to school season, backpack safety
is always a major concern. Backpacks that are too heavy or are worn incorrectly can cause problems for children and teenagers.
WHY SHOULD PARENTS BE CONCERNED?
Improperly used backpacks may injure muscles and joints. This can lead to severe back, neck, and shoulder pain, as well as posture problems. In addition, shoulders and necks have many blood vessels and nerves that can cause pain and tingling in the neck, arms, and hands when too much pressure is applied.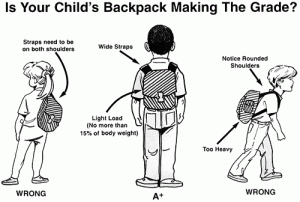 BACKPACK SAFETY 101:
POSTURE: If your child's backpack is too heavy or if your child chooses to wear their backpack on one shoulder, his or her posture may be compromised. It is important to encourage good posture at a young age to prevent excessive kyphosis or scoliosis in adulthood.
WEIGHT: It is recommended that kids carry no more than 10% to 15% of their body weight in their packs.
Child's Weight / Backpack Weight
50 pounds / 5 pounds
75 pounds / 7.5 pounds
100 pounds / 10 pounds
125 pounds / 12.5 pounds
150 pounds / 15 pounds
STRAP THICKNESS: It is important that the straps are thick and have good cushioning and support. Thinner straps can dig into your child's shoulders which can put unwanted pressure on blood vessels and nerves and can cause numbness and tingling in the arms and fingers.
WEIGHT DISTRIBUTION AND ORGANIZATION:
When packing the backpack, be sure to keep heavier and bulkier items closer to the back, and lighter and smaller items towards the front. This will reduce to amount of stress through your child's spine. Additionally, try to keep only the essential items in the pack that are required for the school day or for homework.
SIZE:
Your child's backpack should never be wider or longer than your child's torso and never hanging more than 4 inches below the waist.
WAIST STRAP AND BACK SUPPORT:
When searching for the right backpack, looks for ones that have a waist strap. This will allow you to distribute the weight more evenly across the body. Some backpacks come equipped with both a waist and sternum strap which will add even more support. Also, look for backpacks that have a cushioned back. Not only will this provide additional support, but will also help prevent your child from getting poked by pointy objects (edges of books, rulers, pens, pencils, etc.)
LIFTING:
When your child is lifting the backpack off the floor be sure he or she is bending at the knees and not at the back.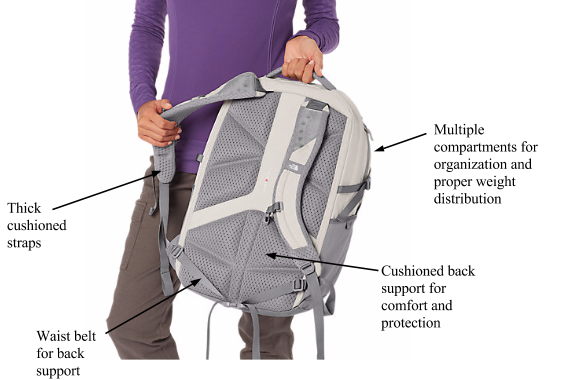 WHAT YOU CAN DO AS A PARENT:
1.  Watch your child put on or take off a backpack to see if he or she has difficulty.
2.  Ask your child if he or she is having any symptoms: numbness or tingling in the arms or fingers, or pain in the neck, back or shoulders. If your child is having any of these symptoms, don't hesitate to contact your physician or physical therapist.
3.  Buy paperback textbooks. Hardcover textbooks can add extra bulk and weight to your child's load. Buying the paperback textbooks will not only save you money, but can help preserve your child's back as well.
4.  Talk to the school about lightening the load. Be sure the school allows students to stop at their lockers throughout the day. Team up with other parents to encourage changes.
5.  Take advantage of advancements in technology. Several books, including textbooks, are now available to purchase on the web and can be viewed on portable electronic devices.
HOW DOES PHYSICAL THERAPY PLAY A ROLE?
At Specialized Physical Therapy, we can help you choose a proper backpack and fit it specifically to your child. Children come in all shapes and sizes, and some have physical limitations that require special adaptations.
In some cases, we will vigorously advocate for the student so their books can be left at home to avoid unnecessary back and spine injury.
Additionally, we can help improve posture problems, correct muscle imbalances, and treat pain that can result from improper backpack use. At Specialized Physical Therapy, we also design individualized fitness programs to help children get strong and stay strong—and carry their own loads!
https://www.specialized-pt.com/wp-content/uploads/2015/09/image05.png
247
390
SPT Staff1
http://www.specialized-pt.com/wp-content/uploads/2015/07/Enfold_Logo_July_2014v1_003366-72ppi-01-300x115.png
SPT Staff1
2015-09-20 19:09:04
2018-02-27 03:13:28
Backpack Safety